The most expensive Oriental rug in the world is worth 33.7 million Dollars, like four very good Ferrari cars: It was sold at an Auction in 2013 and since then no other similar rug has been sold. In the article, we would like to tell you more about this rare piece.
The before mentioned auction was held at Sotheby in New York with great excitement of all the members of the staff. Indeed, most of the people working there could not believe that such a precious item entered an auction. This is, in fact, rather a piece of a museum. Very lucky is the anonymous bidder who can now enjoy an antique piece at his house.
Characteristics of the 33 Million Dollar Rug
The most expensive carpet in the world was surely handwoven; the main fabric is wool, but also cotton and silk play a predominant role in the texture. The red colour which is clearly the most striking makes the masterpiece even more sumptuous, we can just appreciate the extraordinary colourful pattern.
As regards to the design, the main theme is constituted by the typical leaves. As seen in many Persian carpets. But in this case the geometrical precision of the shapes and of the spatial collocation is simply astonishing.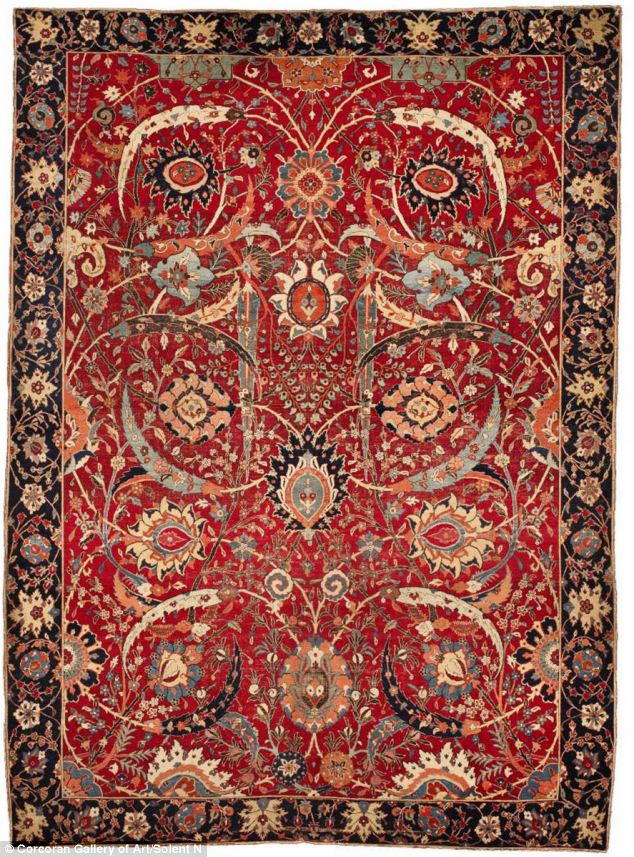 It is unbelievable that human beings might be able to create such a balanced artwork by hand.
The History Behind The Worlds Most Expensive Rug
The most expensive Oriental rug apart from being expensive and incredibly beautiful, it has a very long and intriguing history.
Before being sold at the American Auction the Persian rug was part of a collection of the Corcoran Museum in the US capital, Washington DC.
William Clark, a rich American industrialist, bought the red carpet in Paris at the beginning of 1900. Mr Clark, who became also a senator, was a very antiques' expert.
Only after his death, in 1925, the precious carpet arrived at the museum.
With respect to the very origin of the piece, the Oriental carpet was probably commissioned by a well-off family in the 1650s. Tt comes from East Persia and many workers wove it.
The perfect condition of the Oriental rug leads us think than it used to be hung, rather than left on the floor.
Almost two years ago the most expensive Oriental rug in the world was sold; it is time for another memorable bid? We are waiting for the next exciting auction to find out the new most costly rug of the world!
If your looking for a fantastic oriental rug, speak to a member of our team to get the best advice on style, origin and history behind the rugs. Here to help you find the perfect rug for your home interior.