Chinese rugs are very fine and lavish items. They are often made of a mixture of silk, giving them a softness that increases their appeal.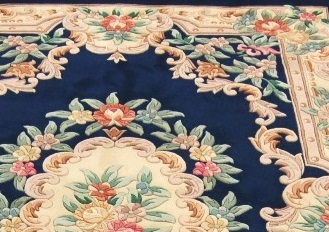 Chinese rugs are clearly recognisable thanks to their recurrent floral motifs and their thickness.
These unique items are highly desirable, not only because they satisfy the taste of those who love all things oriental, but because handwoven ones are relatively rare.
Chinese rugs are made of wool, cotton and silk. What is more, the industry that produces these raw materials is particularly fervent in China.
As for design, they are usually decorated by images of flowers, animals and hidden cultural symbols. These characteristics make Chinese rugs perfect for any living room or bedroom. Particularly if they exhibit the more traditional designs.
In comparison with the most common Persian rugs, Chinese carpets are thicker and the designs are less intense. Usually the plain colour prevails over the motifs in Chinese rugs.
Peculiar symbols in rugs
The main motifs in these fantastic rugs from china are very harmonious and vivid. They reflect natural elements, but, in spite of their simplicity, they also hold profound connotations that derive from the Chinese culture.
Here are some examples of symbols found in Chinese rugs:
Peony flowers: These beautiful flowers represent prosperity and wealth.
Bamboo: This plant is widespread in China and represents purity.
Dragons: Dragons represent power. In fact, they are the equivalent of lions in Western cultures.
Bats: Although a symbol of darkness in the West, bats represent happiness in Chinese culture.
Horses: This animal represents success.
Phoenix: This mythological creature represents immortality for the Chinese, just as it does in the West.
Cranes: Similar to the Phoenix, cranes are symbols of longevity.
Deer: Just like cranes, deer are emblematic of a long life.
Kilyn: Kilyin is a mythological animal that means fertility.
Clouds: Clouds represent the future and the ability to predict it.
Vase: A vase is thought to bring peace and harmony.
Books: Unsurprisingly, books represent knowledge.
Colours in the rugs
The colours in these rugs are usually very brilliant and full of joy. It is uncommon to find areas of darkness.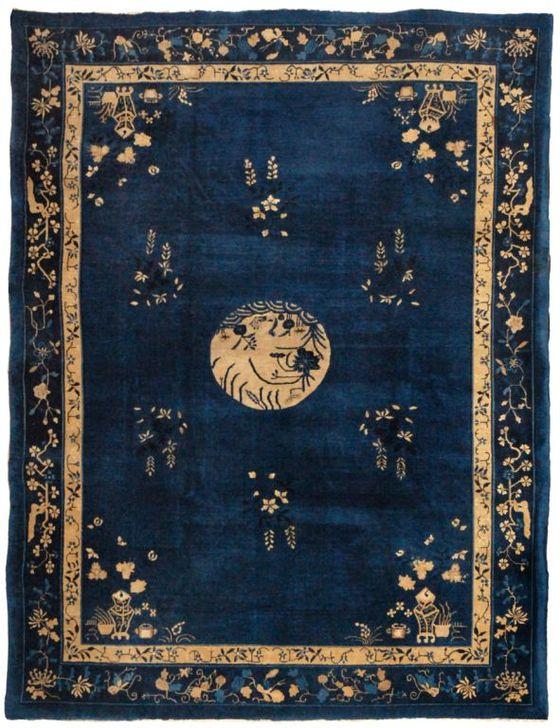 Here is what the colours mean:
Red: Red is a vivid colour of happiness.
White: White means purity.
Blue: Blue is the colour of heaven and represents immortality.
Pink: Pink signifies love.
Yellow: Yellow is a very precious colour representing royalty.
Black: Black simply means solemnity, not death as in the West.
Green: Green is the colour of life.
Why are Chinese rugs relatively rare?
Despite the art of weaving being old in China, the number of hand woven rugs is not particularly high. Furthermore, the number of antique Chinese rug is very low. But why are these rugs rare?
Well, there are two main reasons:
Lack of Availability of raw materials: Wool is the main material, and it's not easy to find in China. apart from in the North-West.
Cultural reasons: The art of weaving has not been considered a fine art for very long. In fact, it did not belong with the other official arts of the Chinese dynasty.
Despite these limitations, the weaving industry in China has been flourishing in the last year because of the high demand for rugs in Western countries.
Chinese rugs are very charming, even though they are less sophisticated and complicated than Persian rugs. However, some collectors prefer Persian rugs because of their deeper importance within the lifestyle and culture of the community where they are made.